FAGOR Industrial and Commercial Laundry | Equipment, Sales, & Service
As a dry cleaner, hotel, or laundromat business, it can be difficult to run efficiently without investing in commercial laundry equipment. If you are running a business in the Florida area, be sure to look into our seamless and cost-effective commercial laundry solutions.
We offer a wide range of commercial laundry machines by FAGOR at a fraction of the cost of other commercial laundry equipment distributors. You can rest assured we will help you find the right machines and price points to fit your unique business needs.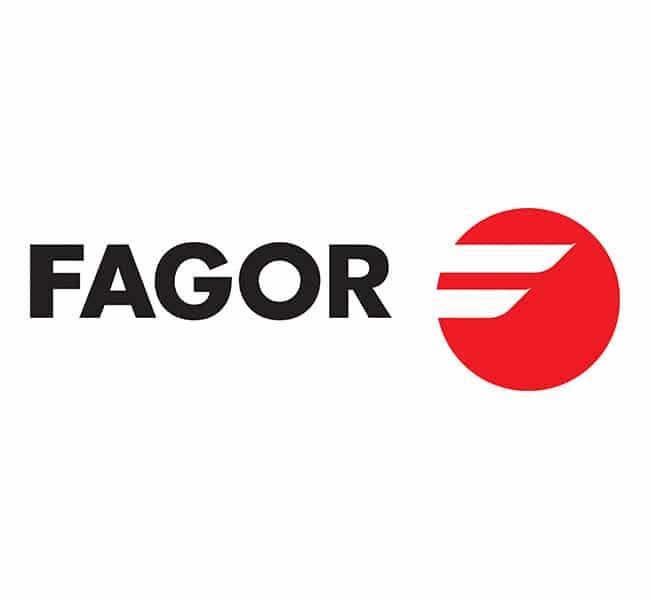 Why FAGOR?
Fagor offers a range of professional laundry equipment specially designed for smaller and larger establishments. From a compact size all the way up to the large industrial machines, Fagor has what you need at an affordable price. 
Our FAGOR Industrial Machines
Whether you're looking for a professional washer, compact dryer, or wall flatwork ironers for speedy dry and ironing times, we carry a range of options for you to choose from.
As a licensed reseller of FAGOR Industrial machines and parts, we at Gulf Coast Equipment Sales are proud to sell, maintain, and provide service parts for all FAGOR Industrial machines. What makes FAGOR machines truly unique is their vast range of equipment options that come with the latest technology. 
FAGOR's newest generation of machines uses Kare technology –– an environmentally friendly yet easy-to-use option that makes doing laundry a breeze.
FAGOR Industrial and Commercial | Washers
Our FAGOR washers come in a variety of models that are sure to suit your business's needs. 
These washing machines can also be custom made with options that have already been installed and factory tested.
If you're concerned about the additional costs that come with water consumption, FAGOR's washers are right for you. This line comes equipped with an automatic load weighing system that allows for considerable savings, reducing those extra costs to your business.
With FAGOR's latest line of advanced washers, customers can reap the benefits of a machine that is not only cost-effective but also one that operates at the highest standard to get the job done smoothly. Washer options include:
High spin

Fast spin

Normal spin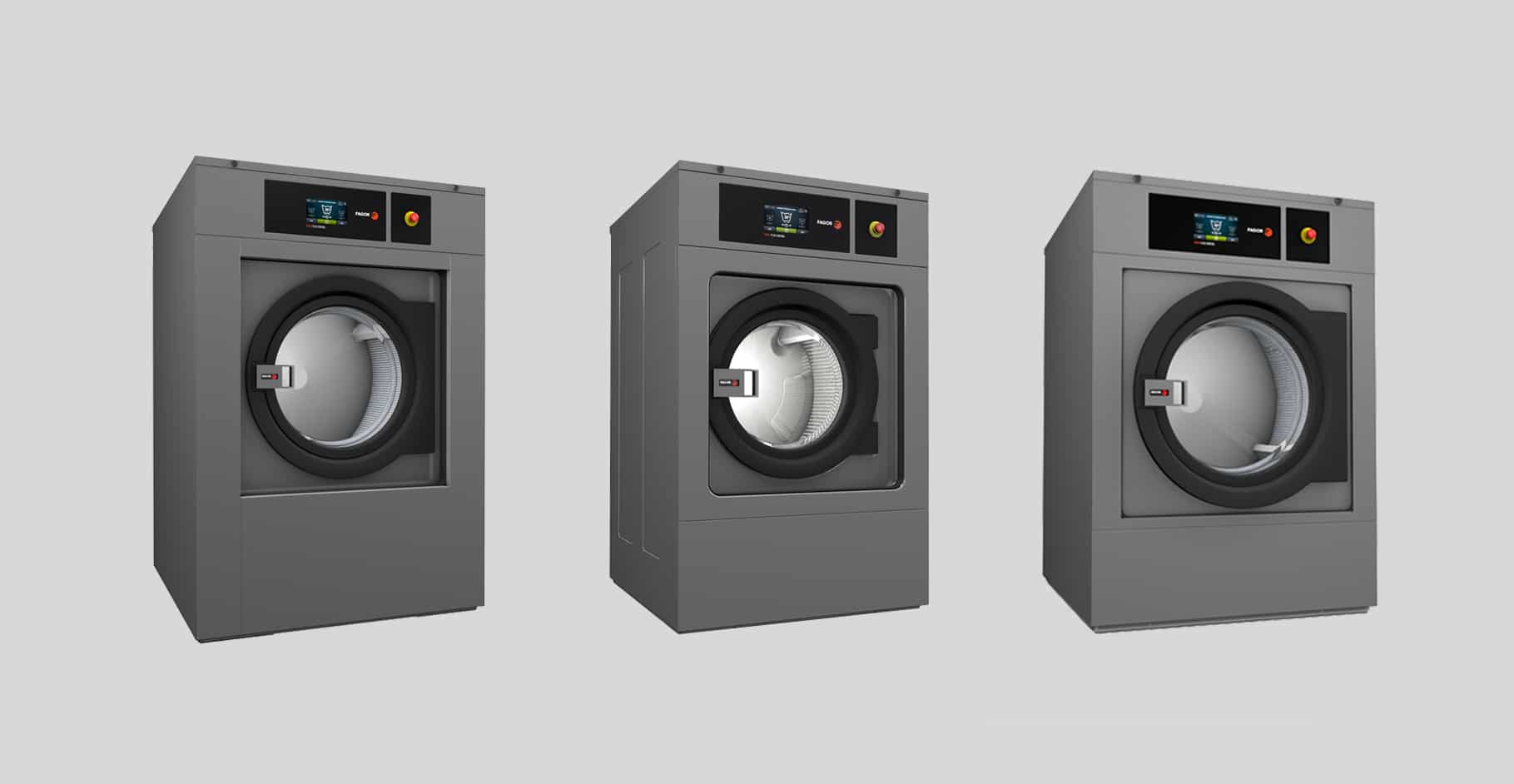 FAGOR Industrial and Commercial | Dryers
Unlike many other brands, FAGOR Industrial offers dryer machines that already come equipped with two unique types of control systems: touchplus and easy control. With touchplus, customers can benefit from a fully programmable microprocessor that includes preset programs as well. With easy control, you can easily regulate the temperature of your dryer and program the machine using an external console.
FAGOR's line of cutting-edge dryers is designed for your comfort and well-being with their versatility, top-notch construction, and ergonomics in mind all while remaining sustainable. Not to mention they are easy to install and require relatively low maintenance.
Choose from our single drum dryers, including Advance, Advance+, Concept, and Economic Line. All single drum dryers come equipped with:
Green Flow System ©
IDRY ©
Efficient Air Flow
Mixed Flow

MP Control

Double Skin
Total Flow
Businesses with greater laundry needs can optimize space with stacked dryer models that come in Advance, Concept, and Economic Line. All stacked dryer models come equipped with:
Touch Plus Control TP2
IDry
Fire Kare System
 These stacked dryers also operate at a higher capacity and are more versatile with the help of dual controls.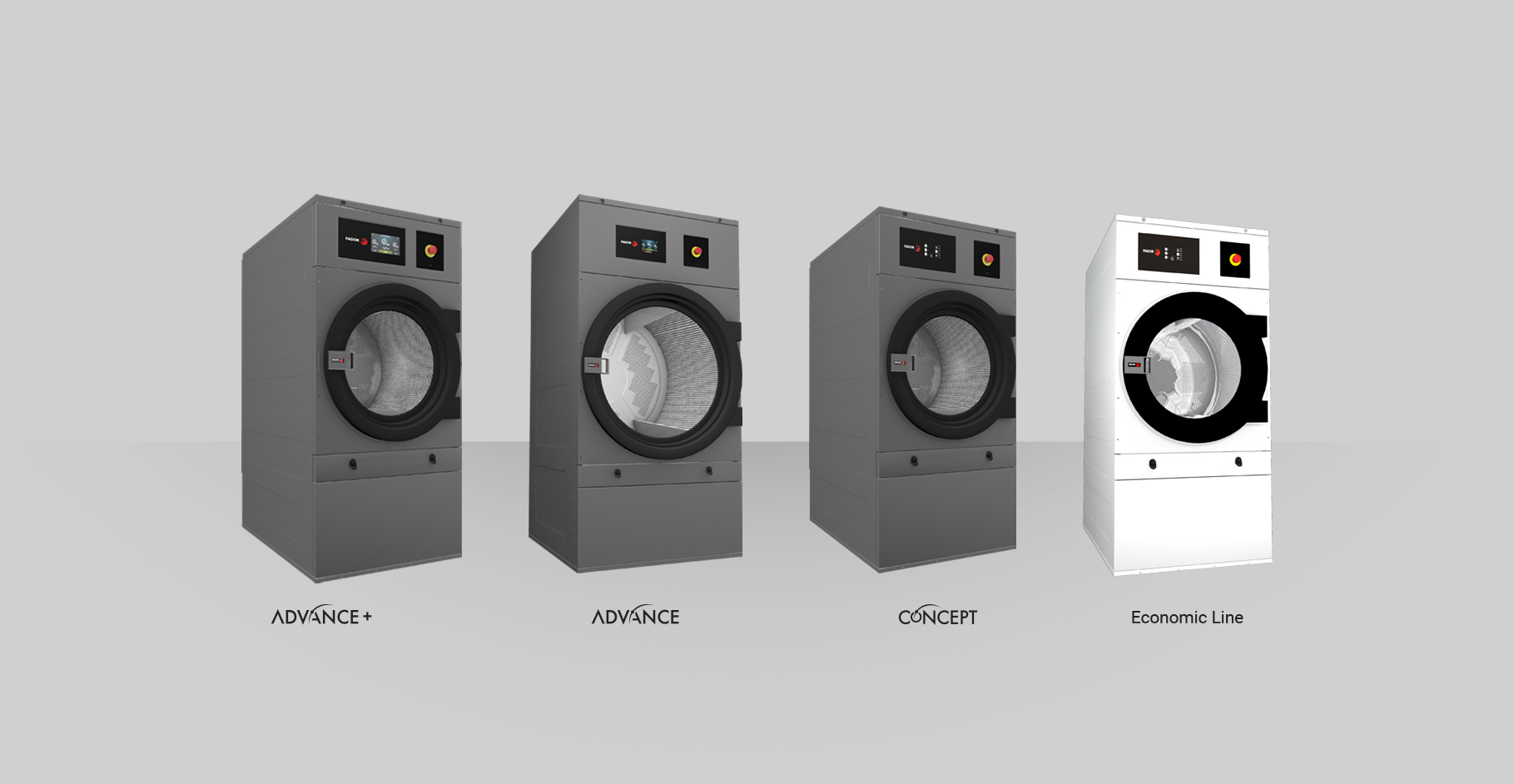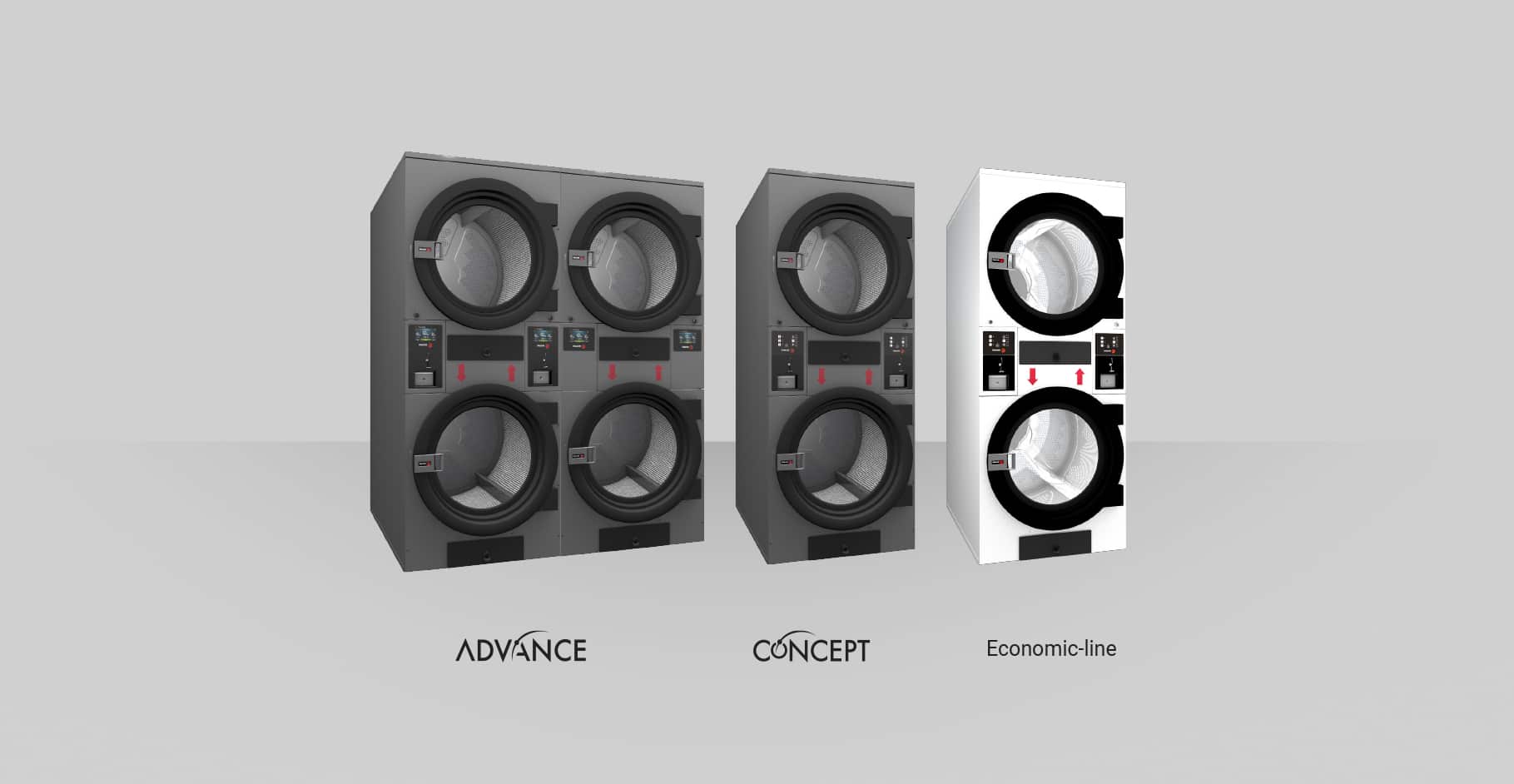 FAGOR Industrial and Commercial | Flatwork Ironers
Looking for a quick and efficient way to handle a large quantity of ironing? Look no further. FAGOR's line of flatwork ironers offers an all-new design that speeds up the drying and ironing process. These machines are both simple to operate and require practically zero maintenance. Because they are wall machines that operate from the front, they require minimal operation and less space for installation. Our range of options include:
Wall Flatwork Ironers
Flatwork Ironers

 Chest Flatwork Ironers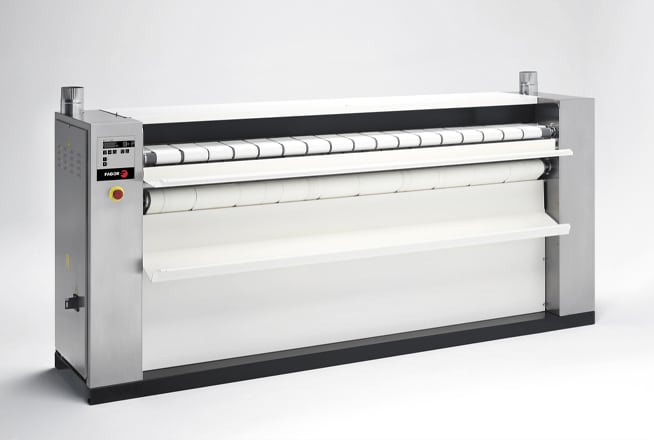 What Type Of FAGOR Flatwork Ironer Is Right For A Small To Medium-Sized Business?
Choosing the right machine can be tough when you don't know where to start. Luckily, our team of experts is here to ensure that you end up with the most affordable and efficient option to fit all your needs.
The Wall Flatwork Iron is best for those businesses with small- to medium-sized laundry loads that still require high-quality ironing at a low operating cost. If you operate a small hotel or restaurant, this option might be best for you. Wall machines have a range of heating options (electric, gas, and steam), so they can be used for different needs and keep drying times at a minimum.
Flatwork Ironers with rollers are best suited for those businesses that don't have the space for large laundry machines. These machines are designed to provide high-capacity performance with all the drying, ironing, and folding done in a small space. They are also equipped with Touch Plus 2 Control for enhanced flexibility and ease of use.
What Model Of FAGOR Flatwork Ironer Is Best For A Hospitality Business?
If you run a hotel or country club, chances are you are often handling lots of laundry from tablecloths to bedsheets and towels. These items need to be ironed quickly and efficiently. 
The Chest Flatwork Ironer is perfect for a hospitality business because it can handle high-quality garments and gives them an impeccable finish the first time around. With this machine, you won't ever have to worry about marks on your garments and linens. They also feature an LED light system that shows you what's happening inside the machine so you have full control of the operation.
Contact Us
Whether you're a small or large business looking for an efficient and cost-saving way to do bulk laundry, be sure to contact us about our line of FAGOR Industrial machines. We're happy to help you find a machine that fits your specific needs.