Fulton Dry Cleaning & Industrial Laundry | Equipment, Sales, & Service
Do you run a dry cleaners, healthcare facility, distillery, company in Florida? Looking for an economical and efficient way to run your operations? When it comes down to a cost-effective solution, investing in the right boiler is your best bet. 
As leaders in the commercial laundry industry, our team of experts at Gulf Coast Equipment Sales (GCES) knows what's important to our customers. 
We offer a wide range of industrial boilers by Fulton Dry Cleaning & Industrial Laundry at different price points that are sure to fit your business's needs.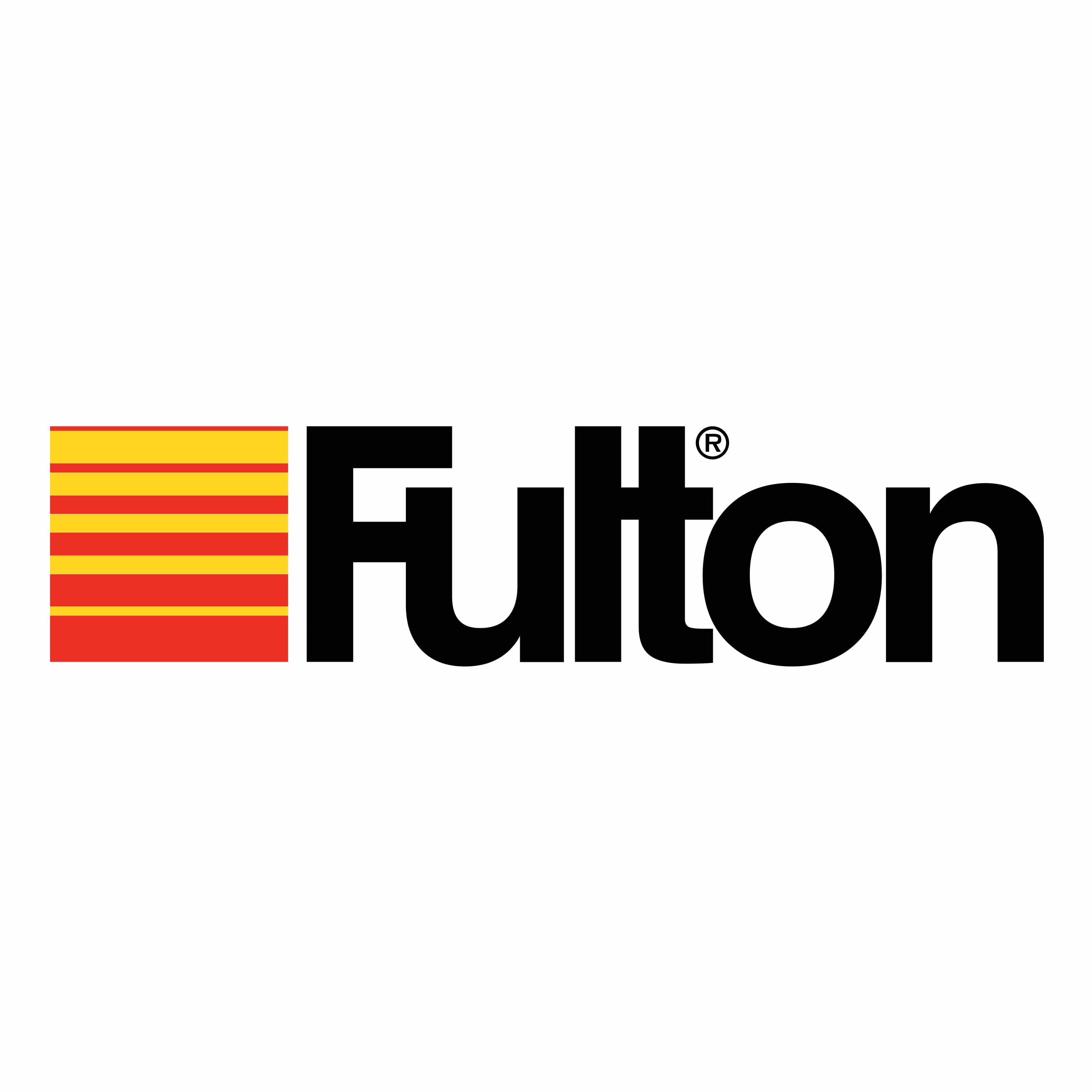 Why use Fulton Dry Cleaning and Industrial Laundry Equipment?
GCES has distributed the highest quality brand boilers, such as Fulton, to businesses all over the state of Florida. Our customers are mostly based in Cape Coral, Fort Myers, Lakeland, Tampa, Saint Petersburg, and Orlando. They occasionally extend to other parts of the U.S.
We are proud to serve big-name clients like Universal Studios and SeaWorld / Busch Gardens, which both have large wardrobe and laundry departments. In addition to sales, we also have a parts and services department for those customers in need of part replacements or servicing malfunctioning machines
About Fulton Machines
Since his invention of the first Vertical Tubeless Boiler in 1949, Fulton's founder Lewis Palm has paved the way in the engineering of steam equipment for the laundry and dry cleaning industry. Today, Fulton is a global manufacturer of steam machines for a wide range of markets that go beyond the United States.
Despite its growth and expanding capabilities, Fulton stays committed to providing one-of-a-kind machines and customer support to its  growing client base. Fulton also remains focused on the future by delivering cutting-edge products that use lower emissions, while still delivering on the same quality customers appreciate.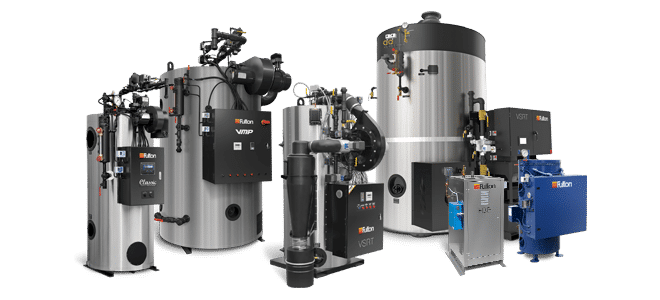 Our Fulton Dry Cleaning & Industrial Laundry Machines
Whether you're looking for a steam boiler, hydronic boiler, thermal fluid heater, or ancillary equipment that is hand-built by skilled craftsmen, we carry a range of options for you to choose from.
As a licensed reseller of Fulton boilers and parts, we at Gulf Coast Equipment Sales are proud to sell, maintain, and provide parts for all Fulton brand machines. Fulton offers wide-range of machine offerings.
Steam Boilers

Thermal Fluid Heaters

Ancillary Equipment

Custom Engineered Systems

Heater Refurbishing
Steam Boilers
Fulton has remained a leader in the production of quality steam boilers since its very first in 1949. Fulton's boilers offer both minimal footprint and seamless configurations for nearly every industry.
VSRT: Vertical Spiral Rib Tubeless Steam Boiler

VSRT 250: Vertical Spiral Rib Tubeless Steam Boiler

Classic: ICS & ICW OR FB-A Model; Vertical Tubeless Boiler

VMP: VMP & VMPW; Vertical Multi-Port Boiler

FBS: Horizontal Firetube Boiler

Fulton Electric: FB-E, FB-L & FB-W; Steam Boiler
Ancillary Equipment
It should be noted that steam boilers are just one part of a quality steam system. To make sure your system is reliable and durable, it's important to invest in some level of water treatment, in addition to specific accessories. Fulton holds its ancillary equipment to the same high standard of quality as its boilers. Some of our offerings include:
Turnkey Solutions

Custom Designed for Each Application

Hand-Built by Skilled Craftsmen

Primary & Auxiliary Equipment

Water Treatment Equipment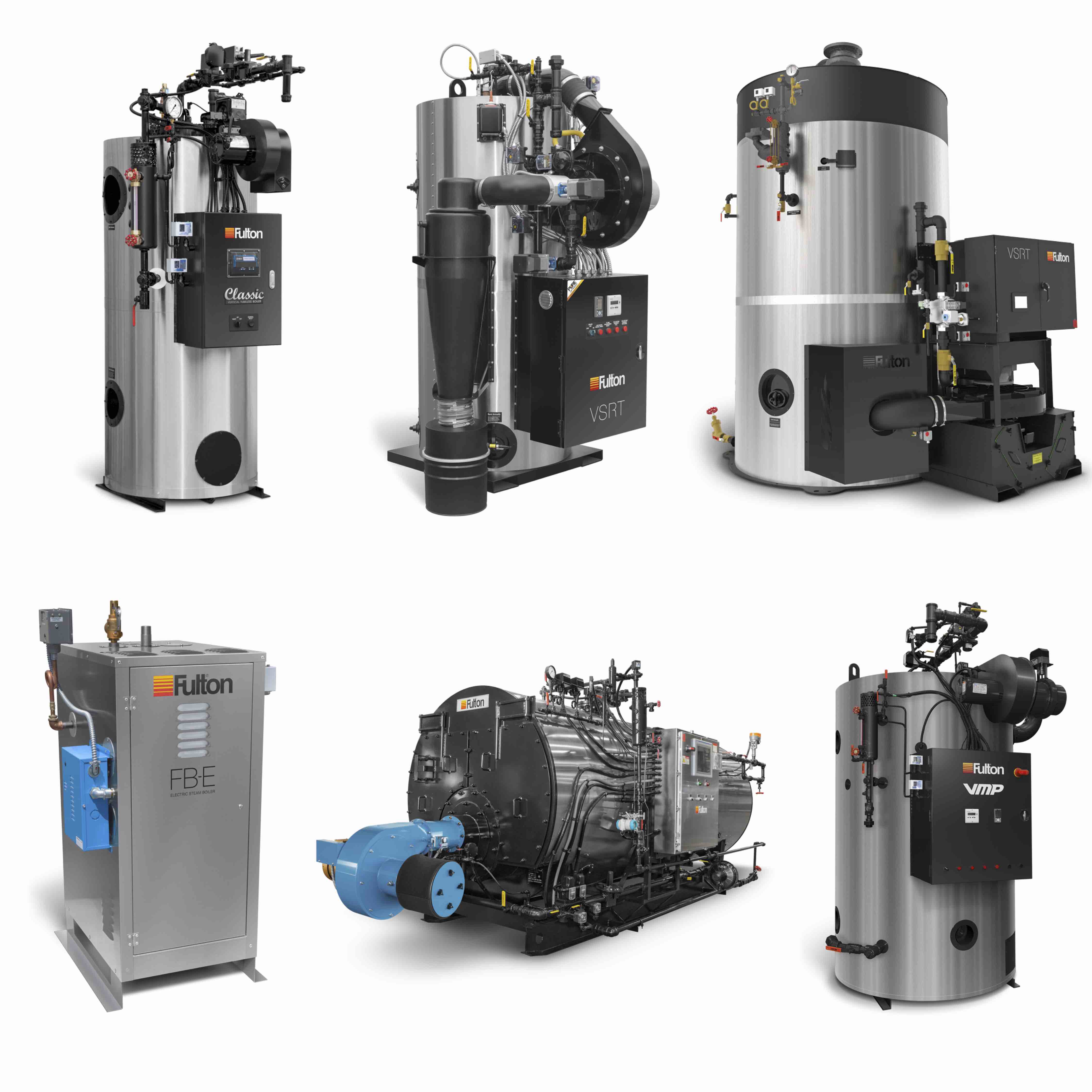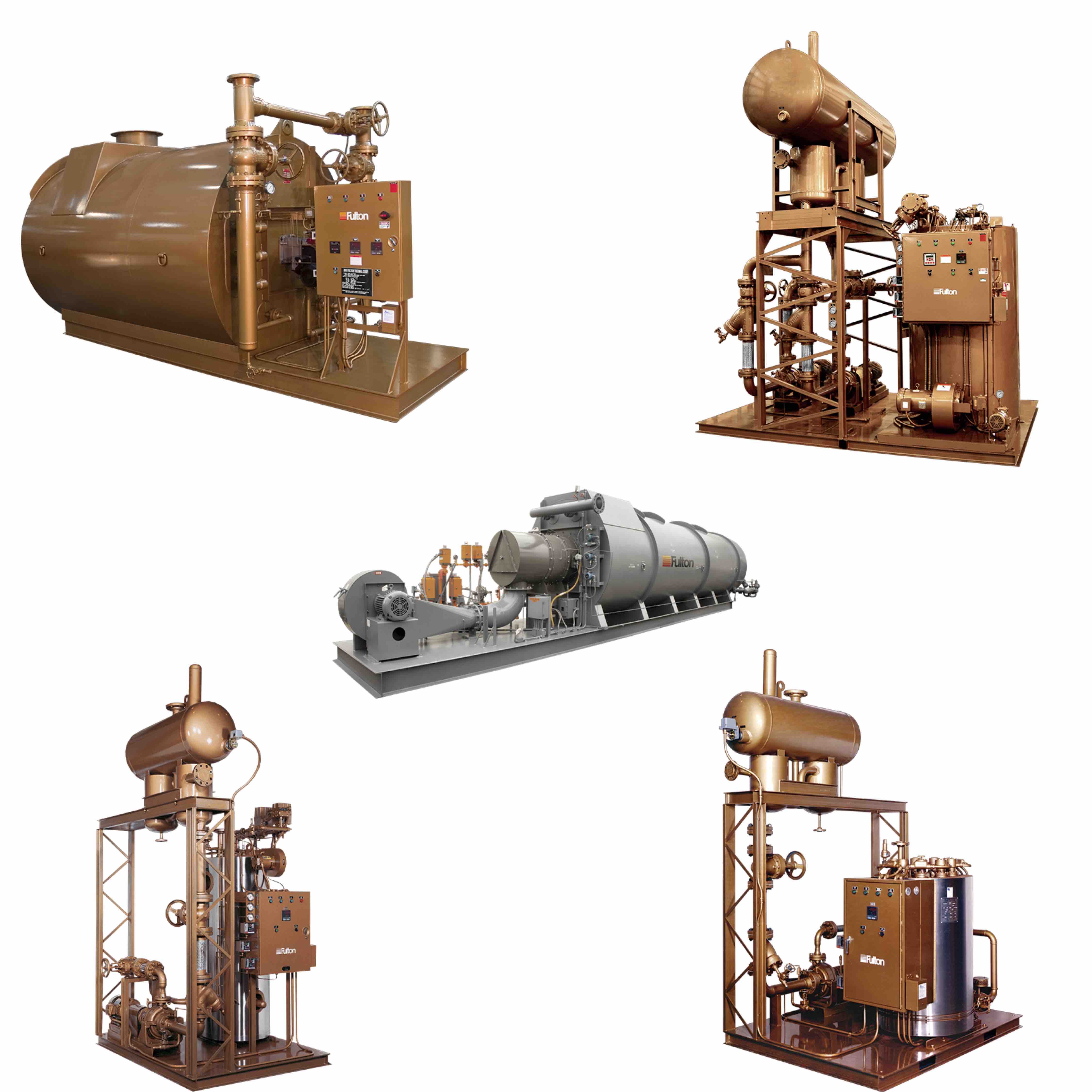 Thermal Fluid Heaters
Fulton's thermal fluid heaters (hot oil) are designed with quality and efficiency in mind and can get to temperatures as high as 750 degrees Fahrenheit. These machines are ideal for businesses that conduct food, chemical, and pharmaceutical processing.
VERTICAL COIL: FT-C; Thermal Fluid (hot oil) Heater

VERTICAL TUBELESS: FT-A; Thermal Fluid (hot oil) Heater

VERTICAL ELECTRIC: FT-N; Thermal Fluid (hot oil) Heater

HOPKINS: HPN; 2-Pass Horizontal Thermal Fluid (hot oil) Heater

ALLIANCE: 3-Pass Horizontal Thermal Fluid (hot oil) Heater
Custom Engineered Systems
Fulton's customized skid systems are designed to help industries navigate complex heat transfer applications. If you're looking for custom pre-piped heat transfer equipment and accessories, we can help you choose the right system and then engineer it to your particular business needs. Some of our offerings include:
Turnkey Solutions

Single-Source Responsibility

Custom Designed for Each Application

Hand-Built by Skilled Craftsmen

Simplify Installation with single-point utility connections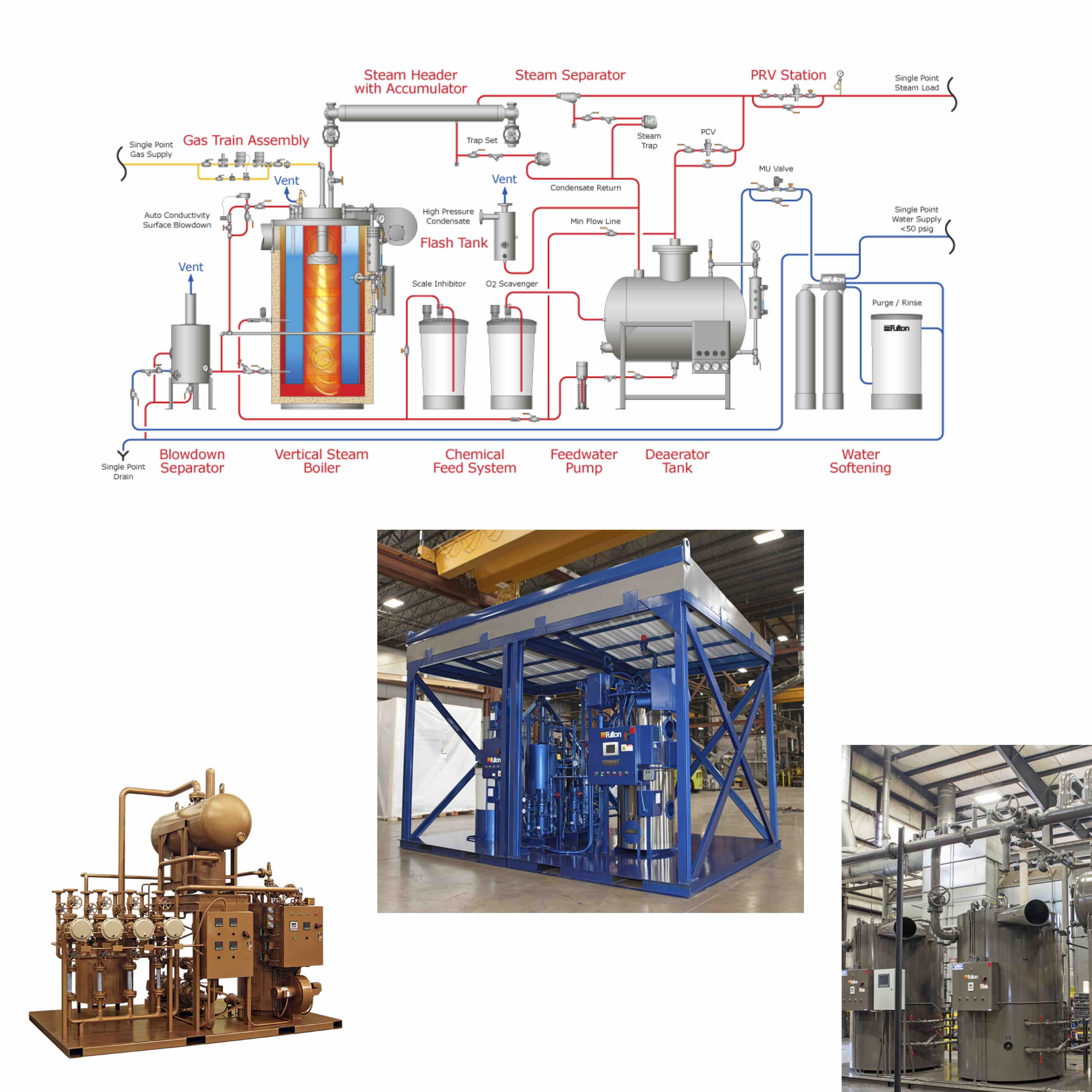 Heater Refurbishing
Buying a used heater can often be a great way to save and get your business up and running in even less time. Fulton offers customers used rental heaters that have been refurbished to good, working condition and a fraction of the cost of a new unit. These heaters offer:
Exceptional Value

Quick Shipping & Delivery

On-Site Refurb & Retrofit

Full Service & Support
With Fulton's cutting-edge PURE Optimization, customers can benefit from a machine with a clean-state design. PURE not only challenges the status quo, but it also allows engineers to create the best possible boiler solutions. New boiler systems using PURE Technology are changing the industry and already have 30 patent applications worldwide.
Machines using PURE Technology include optimizations that reduce emissions and enhance water management, in addition to other key features designed to provide efficiency and high performance.
What Markets Does Fulton Serve?
There are so many markets that rely on Fulton products every day. Some key industries Fulton is proud to serve include: 
Asphalt Heating & Liquid Facilities

Brewing & Distillation

Chemical Processing

Clean Steam & Humidification

Commercial Packaging

Dry Cleaning & Industrial Laundries

Food Processing

Gas & Oil Processing 

Paper Processing 

Pharmaceutical Processing 

Textiles

Commercial & Industrial Facilities

Green Buildings 

Healthcare

K-12 Education

Colleges & Universities 

Custom Applications
Our Parts And Services Department
Needing new parts or service for your Fulton machine? With the number of brand machines we represent at GCES, you can rest assured we have the part and/or qualified technician to help. 
What Types Of Fulton Parts Do You Offer?

 
We have thousands of Fulton Dry Cleaning & Industrial Laundry OEM parts in stock and qualified representatives to help you get the parts you need, so be sure to contact us. 
All Fulton components of boilers, heaters, and other equipment include an 18-month warranty from the date of factory shipment or 12 months from start-up (whichever comes first). If there's a part you need, simply give us a call or fill out a request form through our website. We promise to get back to you as promptly as possible.
What Types Of Fulton Support Services Are Available?
All of Fulton's products come with a preventive maintenance kit, and our team is happy to help retrofit or upgrade your machine when necessary. 
Additional professional servicing includes: 
Start-up & Commissioning

Troubleshooting & Repair

Pump Service & Repair

Aftermarket Support
We are proud to offer our customers not only the value of our sales and parts, but also fast and convenient service for all our machines. All of our GCES technicians are factory trained, meaning they receive hands-on training from Fulton factories to learn to service these machines, specifically. 
Because our suppliers are constantly revamping and releasing new lines of equipment, we are committed to continually educating our technicians. This way, they can keep up with the latest trends to offer our customers the best in service. Our technicians attend continuing education throughout the year. Need your machine serviced, don't hesitate to reach out to us.
Contact Us
Are you ready to order your brand new Fulton machine or need parts for your current one? Be sure to call us. Whether you need brand parts or would like to speak with a factory technician, we'd love to hear from you.