Gulf Coast Equipment Sales – Tampa, Florida
People who want to live in a city with almost perfect weather often choose Tampa, Florida. The sunny and warm weather are a huge draw, along with affordable housing and the low cost of business.
After the United States bought Florida from Spain in 1821, a fort was soon built on what is today downtown Tampa. 
At the beginning of the 20th century, Tampa's population quickly grew. Today, the modern city is a haven for cigar aficionados, retirees, and young professionals. The nightlife and laid-back atmosphere are a draw, along with the miles of white sand beaches facing the warm Gulf waters.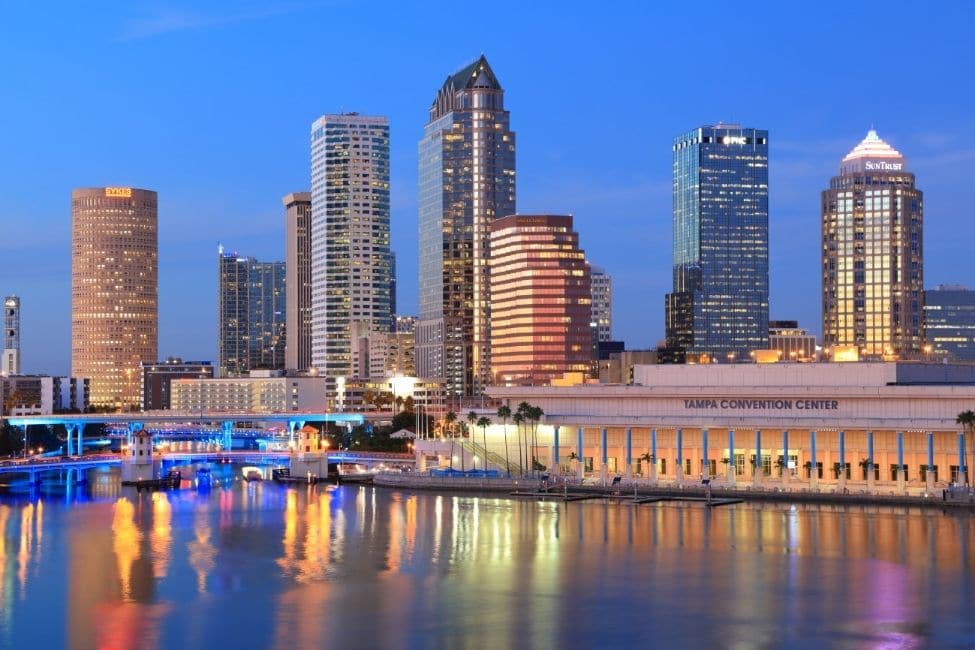 As Tampa continues to grow, there has been a significant increase in commercial development. With all of the construction, you need an equipment team you can rely on. 
Boasting over 30 years of service, Gulf Coast Equipment Sales is Tampa's leader in laundry and Drycleaning equipment sales and service, offering competitive pricing and unmatched customer service. Call the team today for your free consultation.
What does Gulf Coast Equipment Sales offer?
Gulf Coast Equipment Sales is the Tampa Bay area's leader in cleaning equipment sales, service, and parts. The team offers all of your needs regarding:
Dry Cleaning machines

Boilers

Chillers

Washers

Dryers

Finishing equipment
That is only a partial list of the equipment and services that Gulf Coast Equipment Sales provides. Call the team to see if it can service your specific needs. 
Who uses the services provided by Gulf Coast Equipment Sales?
Businesses in the cleaning industry often team with Gulf Coast Equipment Sales for their equipment and service needs. But the team offers businesses from all sectors the tools they need to succeed. 
Examples of businesses and industries that often team with Gulf Coast Equipment Sales include:
Dry cleaners

Laundromats

Hotels

Distilleries

Foodservice and restaurants

Amusement parks
Assisted living communities also utilize Gulf Coast Equipment Sales to help with their cleaning and laundry needs.
What are some of the brands that Gulf Coast Equipment Sales service and sell?
Gulf Coast Equipment Sales services, sells, and provides parts for all of the major brands. The following are some of the most popular options.
B&C Industrial and Laundry Equipment is a well-respected name in the Florida area. The team at Gulf Coast Equipment Sales sells, repairs, and services any B&C product and is a proud certified and licensed realtor.
B&C Industrial and Laundry Equipment is known for its industry-leading standard stainless drying cylinders at more affordable prices than the competition.
Consumers love Edro Equipment for its technologically advanced features. Edro Equipment is known for:
Washers

Extractors

Tumble Dryers

Ozone

Touch Screen
If your business uses Edro Equipment, Gulf Coast Equipment Sales can service all of your needs.
Fagor is a premier name in laundry equipment. The company provides equipment specifically designed for large and small businesses. Best of all, Fagor boasts affordable prices. 
The company stays cutting-edge when it comes to technology, specifically the environmentally friendly Kare systems.
Forenta Commercial Laundry is one of the industry leaders in laundry. The company offers a range of products, including: 
Utility presses

Legger presses

Toppers

Steam-air finishers

Steam and vacuum boards

Puff irons

Tension finishing

Spotting boards

Self-contained 

Linen and drapery presses

Hand irons
When it comes to laundry, Forenta offers name recognition and reliability. 
Fulton Dry Cleaning & Industrial Laundry is known for its skilled craftspeople and attention to detail. The company builds steel boilers, hydronic boilers, thermal fluid heaters, and ancillary equipment by hand. 
The company also excels at building custom-engineered equipment and heater refurbishing.
Rema Dri-Vac Corporation is known for industrial air vacuums, condensate tanks, and fabricare equipment. The company also excels in:
Blow-down tanks

Burks pumps

Condensate receivers

Return systems
Since 1947, Rema Dri-Vac Corporation has been family-owned for over three generations. Its longevity proves that the company is a name you can trust.
Union Dry Cleaning Equipment is known for utilizing EcoFilter technology. Businesses serving populations sensitive to particulates take comfort knowing that EcoFilter filters both large and small particles for maximum solvent purity. 
For businesses dealing with large amounts of laundry, you'll save time knowing the EcoFilters are self-cleaning. The innovative color-sensing computer technology filters whites, colors, and darks and programs the cleaning process accordingly. 
Union Dry Cleaning Equipment offers:
Alternative solvent machines

Steam cleaning machines

Perchloroethylene machines
The company also offers commercial dryers.
Unipress Equipment is a go-to source for all things laundry. The company offers proprietary:
Unipress Shirt Units

Unipress Collar & Cuff Equipment

Unipress Laundry Presses

Unipress Dry Cleaning presses & Equipment

Unipress Tensioning Equipment

Unipress Automatic Bagger
You can't go wrong when choosing Unipress Equipment products.
If you are in the business of servicing laundry or have a company in which you are doing laundry frequently, investing in a production machine from Gulf Coast Equipment Sales is the smartest choice. 
For years the team has been serving the sales, repairs, and service needs of high-tech cleaning machines. If you own a business in the Tampa Bay area, call the team today to set up your free consultation. The prices are affordable, and the Gulf Coast Equipment Sales customer service is unmatched.